Eliminate Tough Stains and Odors Rather Than Just Masking It

Concentrated, Non-Toxic Solution

Refreshing Lavender Scent With 2x More Strength
"It leaves my PuppyPad smelling and feeling fresh. I love how long it lasts😍" - Abbe M, USA
View full details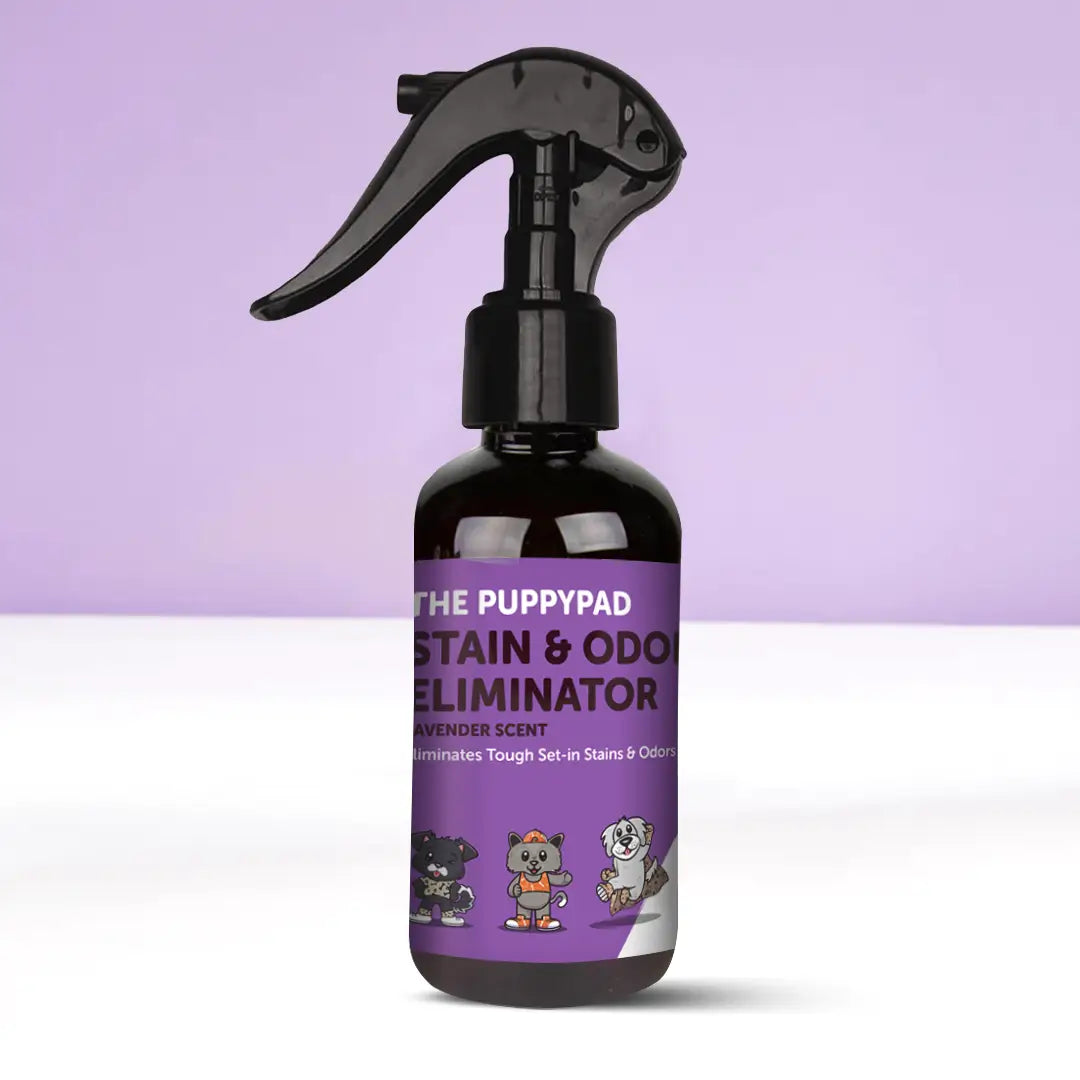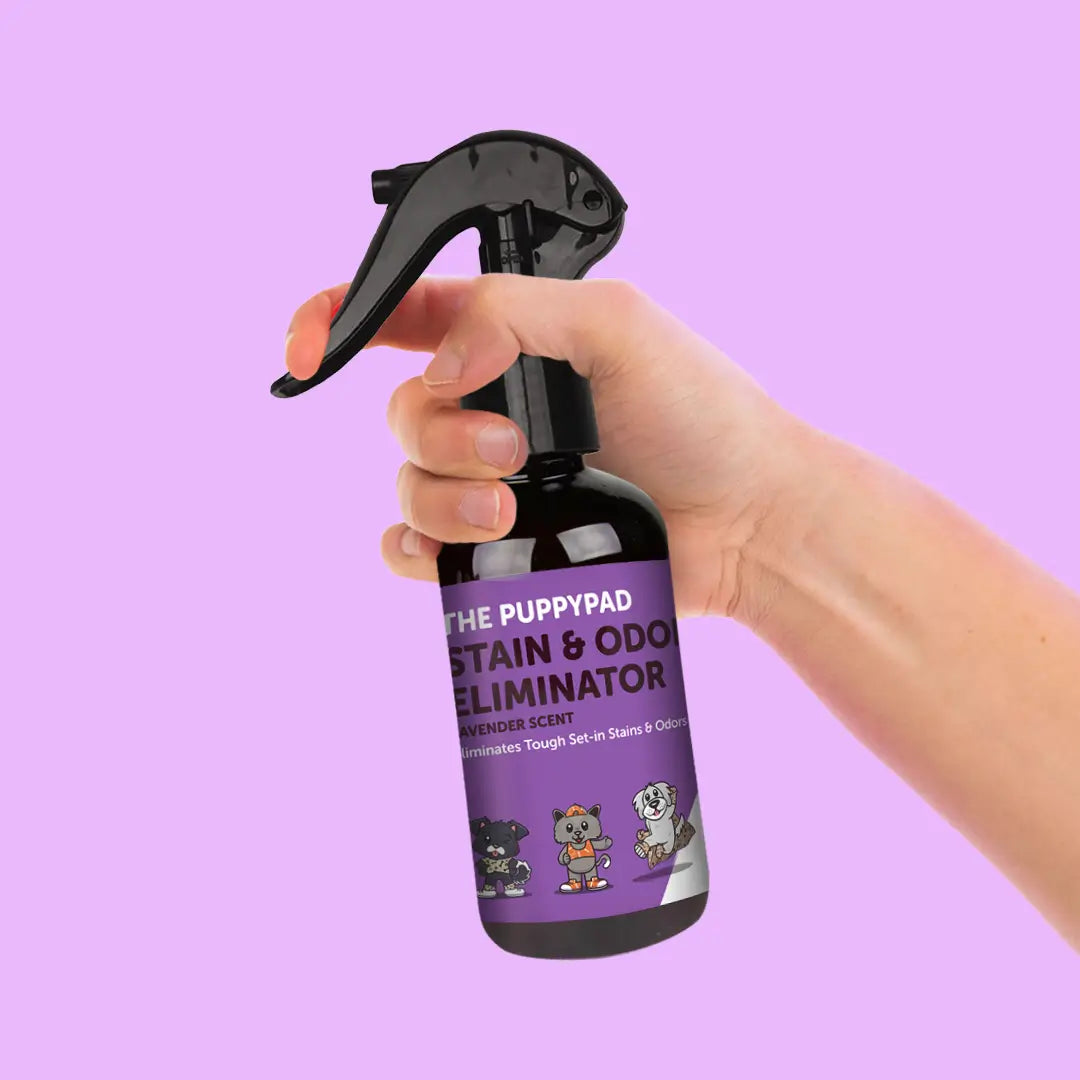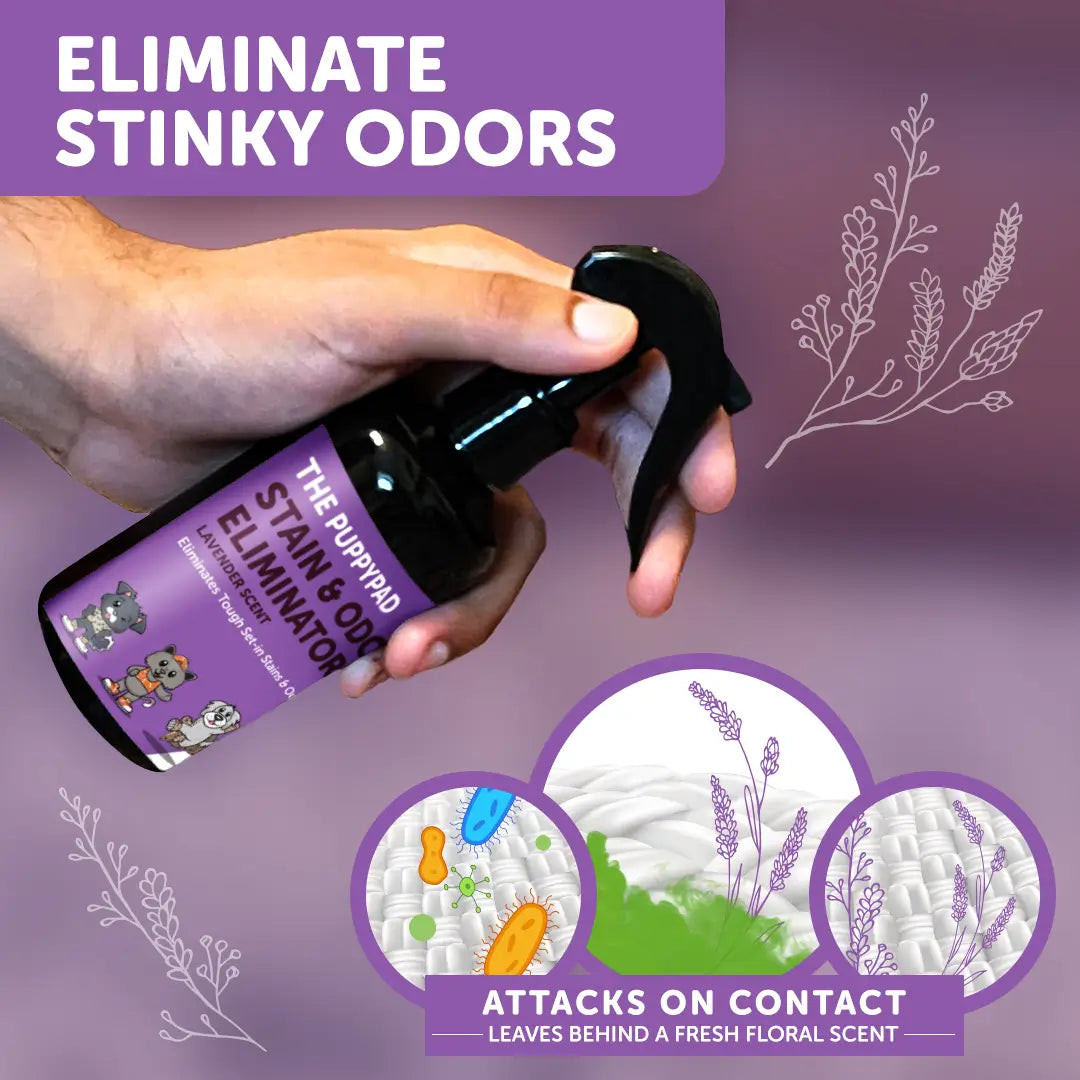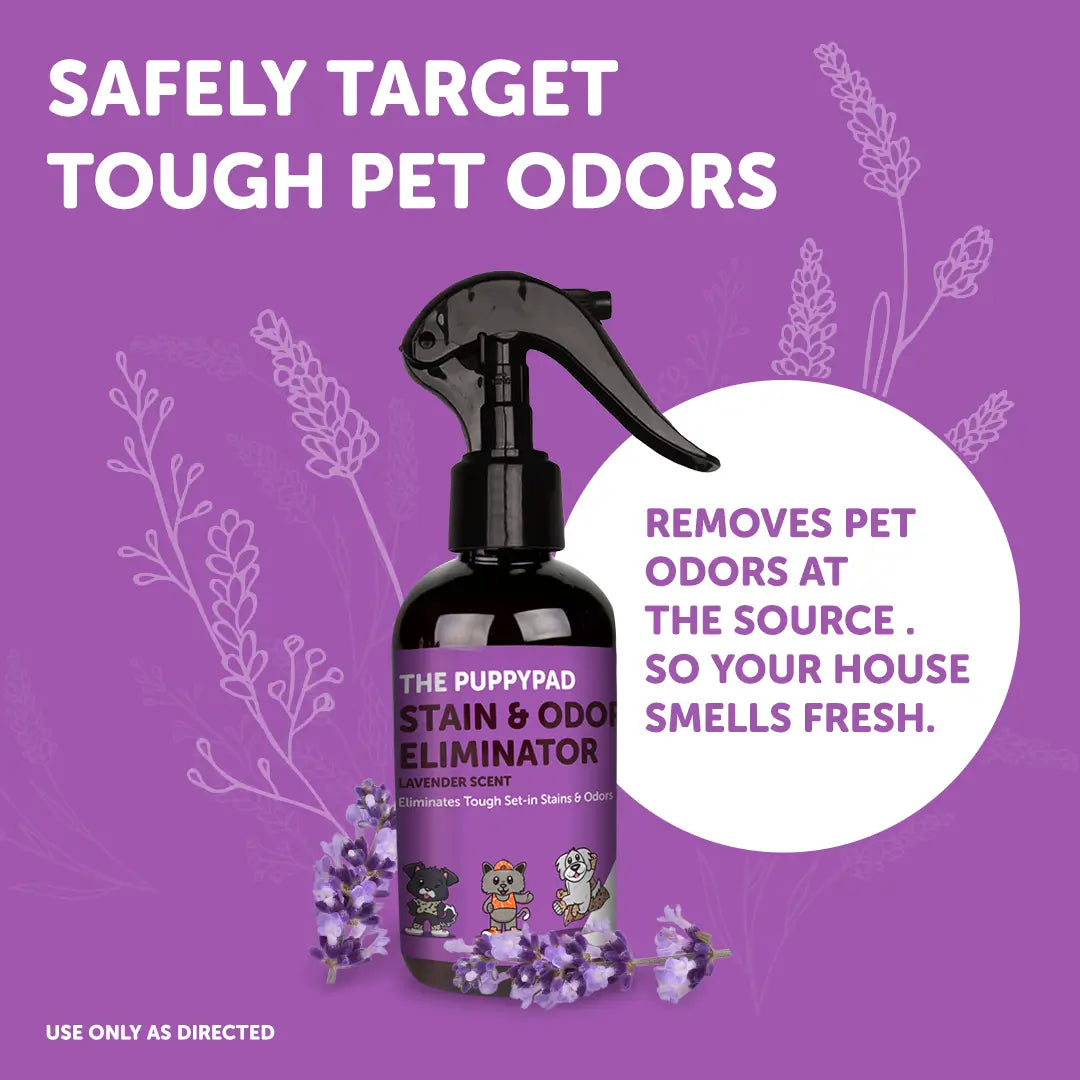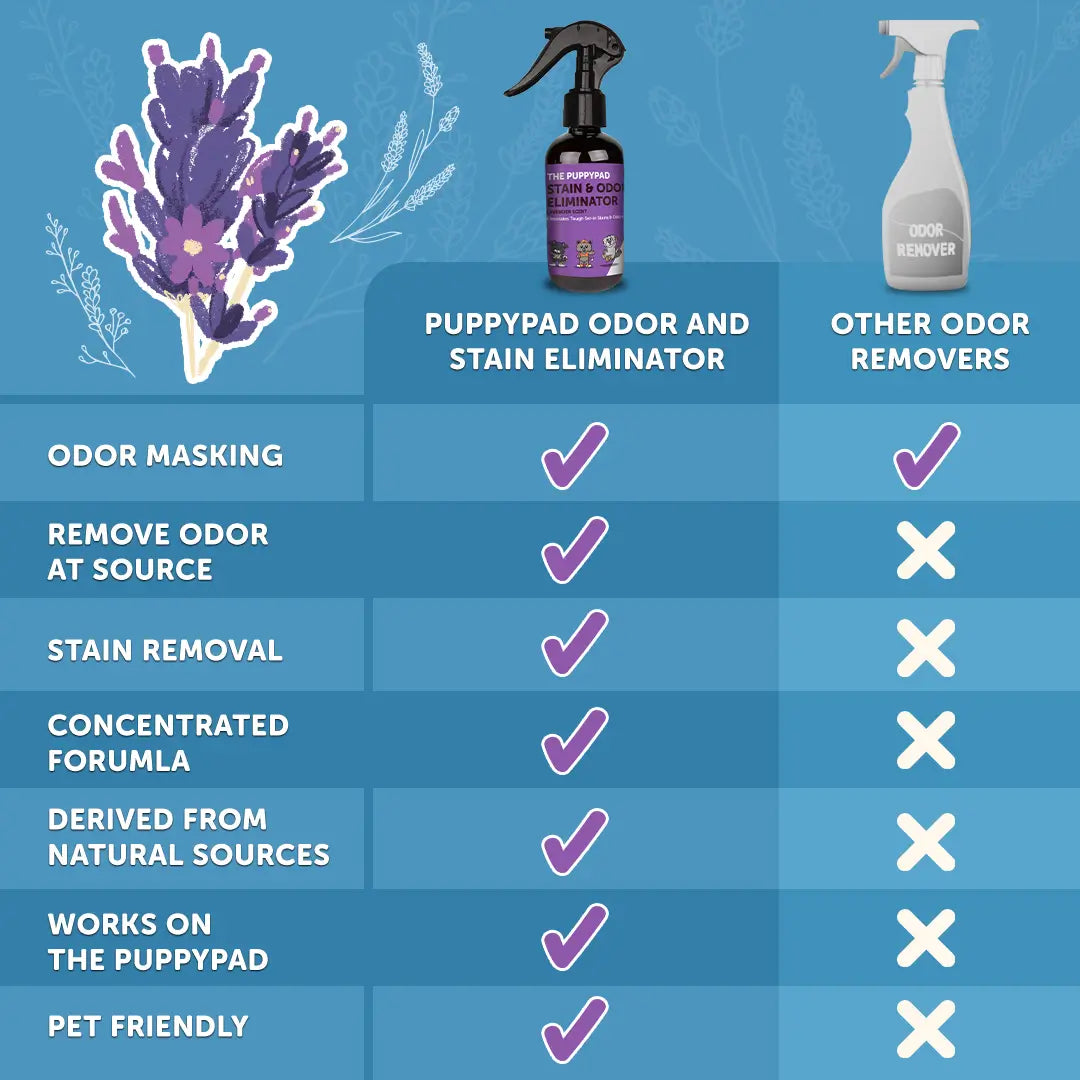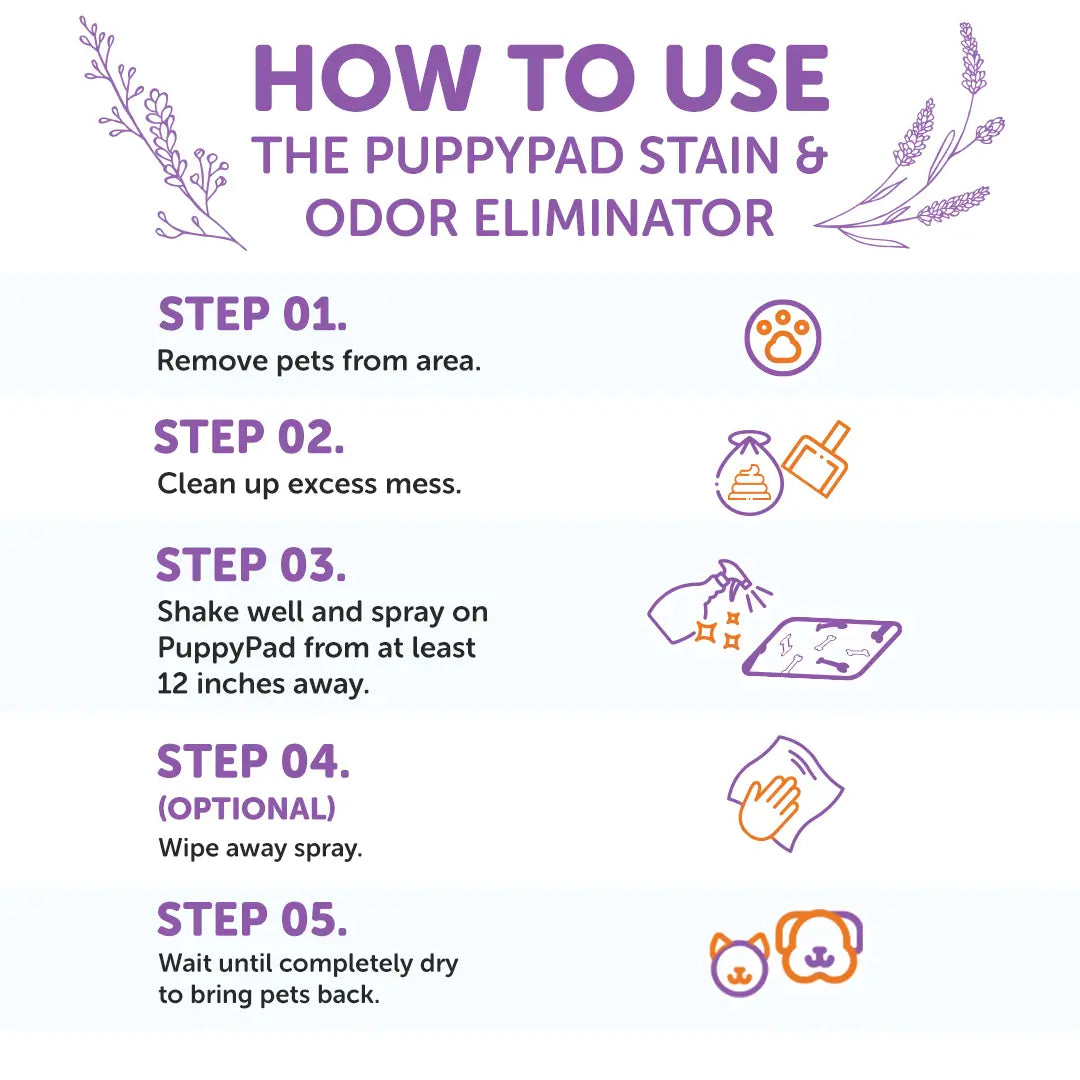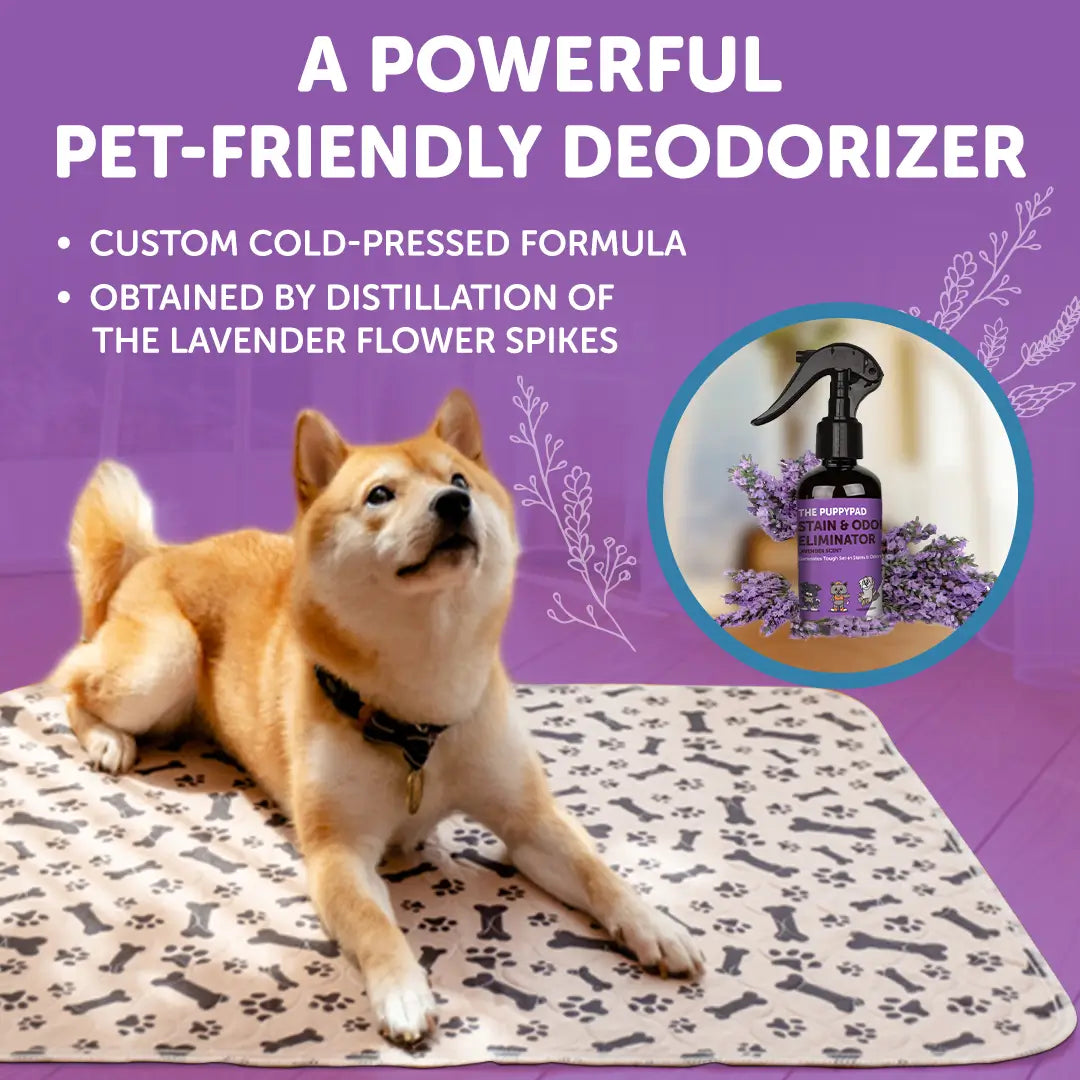 Perfect FOr Puppypads
Our solution has been custom developed to be used on PuppyPads unlike other solutions out there. The Odor & Stain Eliminator removes odors from the PuppyPad and any stains leaving it brand new after every use.
Try Now Risk-Free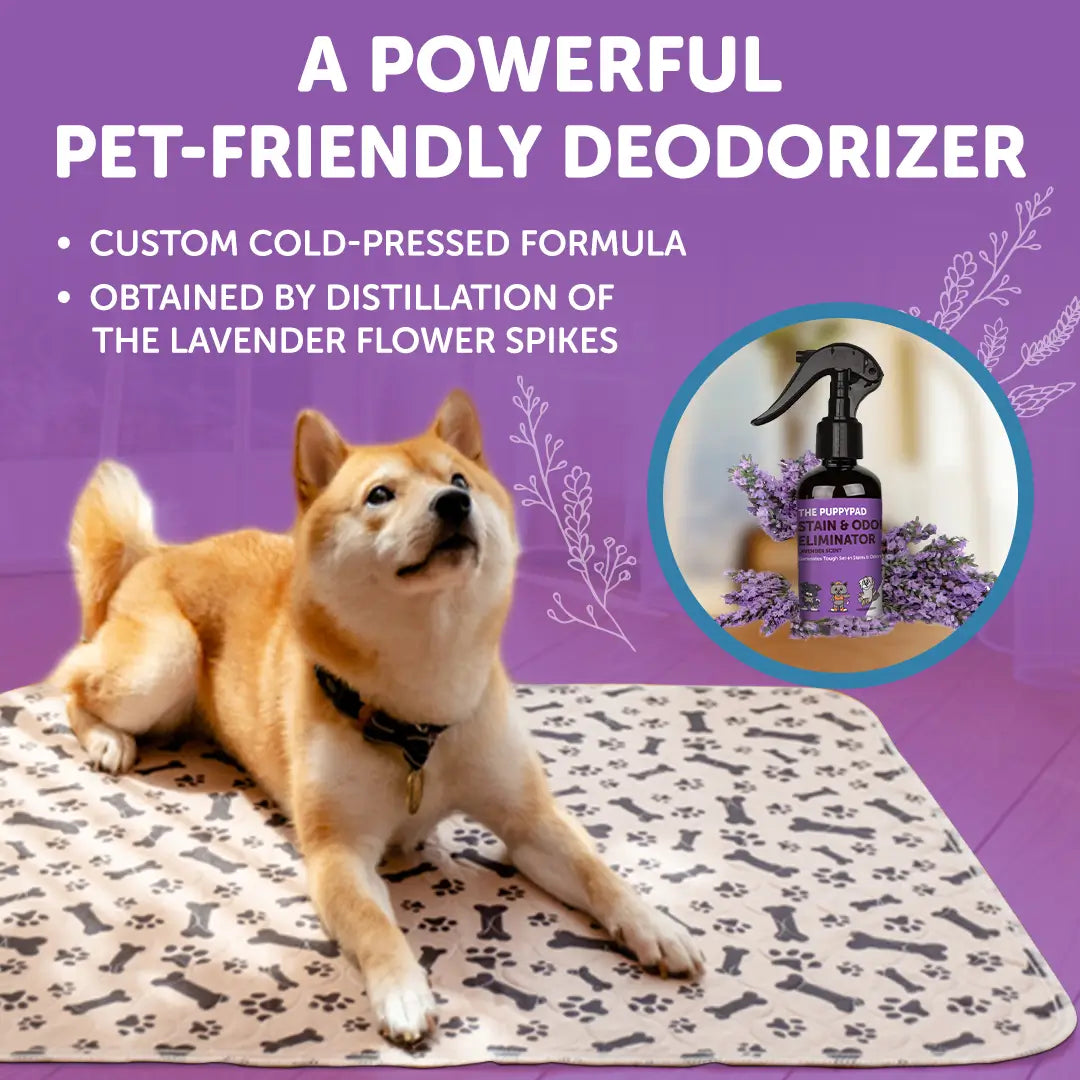 ELIMINATES STAINS, ODORS AND RESIDUE
Accidents happen. After all, dogs are only canine. And even the best-behaved cats sometimes think outside the litter box. That's when it's up to us, as their true best friends, to have the right product on hand to restore peace, love and carpets. In the case of pet urine and other tough stains and odors, PuppyPad Stain & Odor Eliminator is the one to reach for. Its professional-strength bio-enzymatic formula goes to work instantly, releasing active enzymes that feed on ammonia residue left behind in pet urine and other organic materials.
Try Now Risk-Free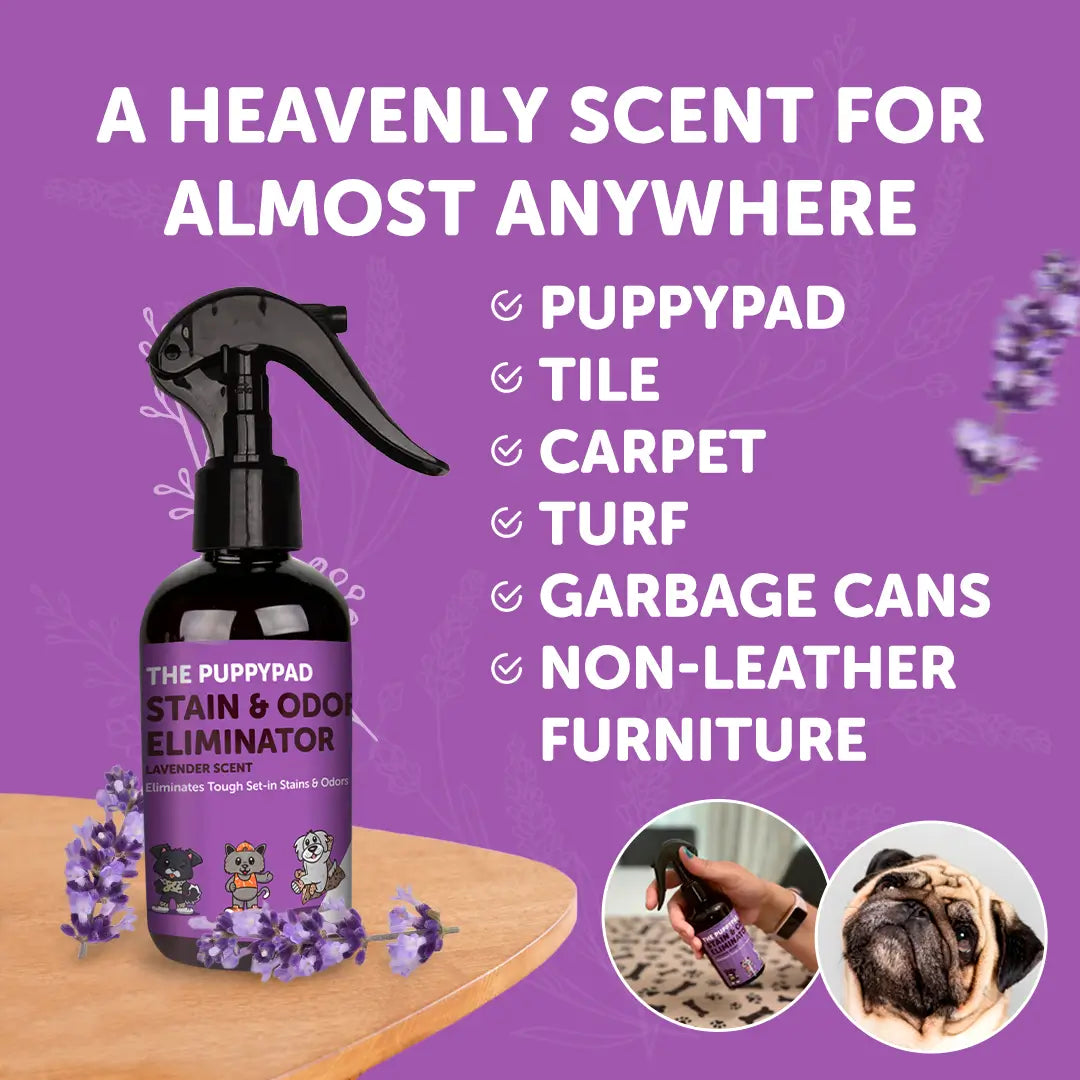 so many uses!
Our Stain & Odor Eliminator works hard to get rid of the toughest stain and odor problems. Safe to use not only on PuppyPads but to sofas, concrete, til, hardwood, laminate floors and most upholstery aswell.

Gauranteed to remove pee stains and odor or every penny back!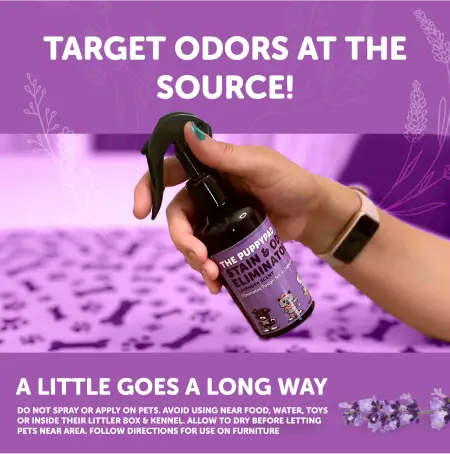 Designed to handle the toughest pet stains in the home
PuppyPad doesn't just mask the bad smells away, it completely neutralizes them, thanks to the powerful ingredients that attack and eliminate airborne, fabric & hard surface odors.

Our enzymatic formulas utilise pet and family-safe ingredients to effectively remove pet stains and odours, while protecting your carpet and soft furnishings.
Try Now Risk-Free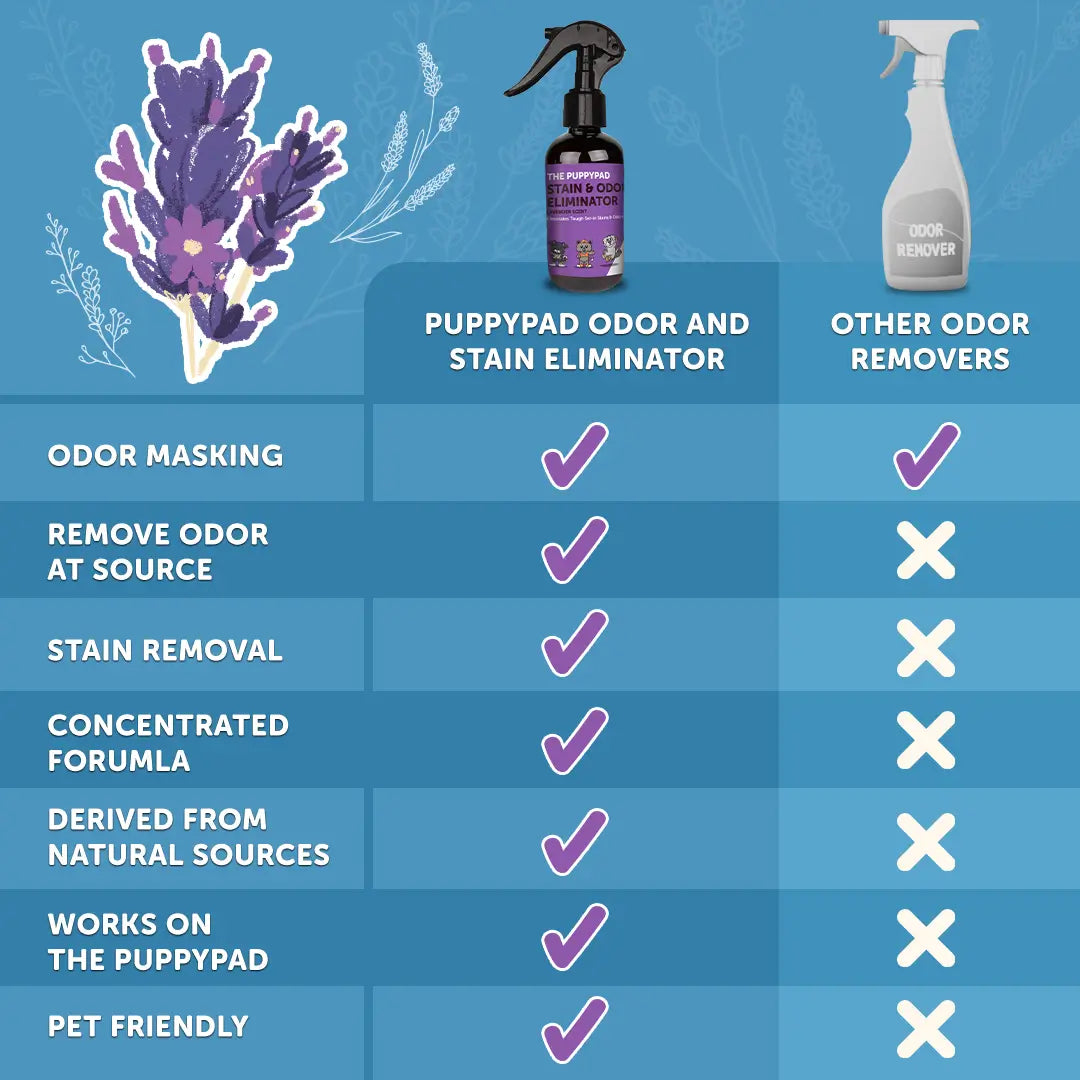 premium concentrated solution
You can spray in the air or on surfaces with confidence, but a little goes a long way. Simply mist anywhere pet odor is a problem. PuppyPad freshens and eliminates all at the same time. All that's left behind is a fresh, flowery scent that will envelop your senses!
Try Now Risk-Free
frequently asked questions🙋
Why can't I just other solutions?

Other solutions are made from weak ingredients and can discolor and ruin the absorbancy of the PuppyPad.

They also only mask smells rather than treating them from the root like PuppyPad Stain & Odor Eliminator does.
Can this be used for the PuppyPad?

Yes, absolutely. We have made this with the PuppyPad in mind. It is completely safe and actually lengthens the longevity of it.
Is it safe around kids or pets?

Yes. PuppyPad Odor & Stain Eliminator is made with natural ingredients, and doesn't use chemical scents. You can spray it in the air or on surfaces and wait for it to dry, but this product is not created for use directly on pets.
How do I use this?

Step 1: Remove Pets from area

Step 2: Shake well and spray on PuppyPad or other areas from at least 12 inches away

Step 3: Wait until completely dry before bringing pets back in.
How many are left?

We have only produced 100 bottles. There is currently 23 left! Grab as many as you can before it's gone
When Will The Sale End?

We are offering 1000 units at a discounted price. The SALE will end on the date stated above on this page, or while stocks last.

Units left in the warehouse at the moment: 23
What Is The Shipping Cost & Delivery Time?

We offer free 4-13 working day shipping.
What Payment Methods Are Available?

We accept Paypal, Stripe, Visa, Mastercard, American Express, JBC, Discover.
What Is Your Return Policy?

The 30-Day Money-Back Guarantee is our way of ensuring your complete satisfaction with our products. If you are not satisfied with the product, then let us know within 30 calendar days of receiving your order, and we will give you a full refund. The company might request additional information from the customer in case the product is reported as defective or faulty. The cost of shipping for returned items is covered by customers.

We do not refund refused packages or returned to the address not confirmed by our company. If you have an issue with your order or product please email help@puppypad.co